Introduction
The trumpet has been a prominent instrument throughout history, heralding kings and queens, calling the cavalry to action, and even bringing down the walls of Jericho in biblical times. Its earliest ancestor is perhaps the ancient shofar (ram's horn), which also dates from biblical times. The most recognizable ancestor of the modern-day trumpet was the natural trumpet (trumpet without valves), first used in the Renaissance era. It could only produce a limited number of notes, but nonetheless thrived as a popular instrument because of its wonderful sound.
Composers such as Bach and Vivaldi wrote extensively for the trumpet. In the mid-1800s, piston valves were created which open and close various lengths of tubing, allowing the trumpet to play all of the notes in the chromatic scale, thus creating the modern trumpet.
The trumpet is perhaps the most versatile instrument in the brass family (which includes French horn, trombone, baritone horn and tuba), thriving in many styles from jazz and pop to classical and rock. Trumpet players have often been in the limelight, among them many jazz, Big Band and classical greats such as Louis Armstrong, Miles Davis, Doc Severinsen, Maurice Andre and Wynton Marsalis.
Back to top
Why Play the Trumpet
A trumpet for a child is a great starting point for learning music. High, bright, light and clear, the trumpet has a wonderful sound and is a great instrument for any student entering the world of music.
Also, the trumpet has fewer mechanical parts and is more durable than many other instruments. Young trumpet students can enjoy making music in a number of ensembles including concert and marching bands, orchestras, jazz bands, brass quintets, large brass ensembles, rock bands, and solo trumpet with piano.
How to Play the Trumpet
Below is a video series introducing the parts of the trumpet and how to get started.
How to Assemble the Trumpet
How to Hold the Trumpet
How to Make a Sound on the Trumpet
How to Play a Note on the Trumpet
How to Tongue on the Trumpet
How to Oil Your Trumpet Valves
Back to top
Which Trumpet Should I Choose?
The Orchestra Place requires all students to have an instrument from the teacher-approved brand list to ensure the best experience and sound for the student and the ensemble.
For beginners, we recommend the Andreas Eastman Student Bb Trumpet as the best trumpet for quality and affordability.
Andreas Eastman Student Bb Trumpet
The Andreas Eastman Student Bb Trumpets have a lacquered brass body and a handspun gold brass bell. They are free blowing, well-balanced instruments that are designed to be comfortable for the younger player whilst affording a full sound with both good intonation and easy response. Eastman's proprietary bell spinning process produces a graduated brass thickness that gives the player a professional sound. Hand-lapped valves further the professional features of Andreas Eastman trumpets. These trumpets are crafted from the highest quality materials to meet the demands of all student players in terms of both durability and artistry.
Bb trumpet is the most common, and is played in concert bands, jazz bands, rock bands and most ensembles which involve trumpet. However, there are various types of trumpets and related instruments.
Other commonly used trumpets include the C trumpet, D trumpet, Eb trumpet, and piccolo trumpet. These differ from the Bb trumpet in the length of tubing, which as listed above, progressively get smaller, making them higher in pitch. They can be heard in orchestras and chamber ensembles, and are used for solo trumpet works as well.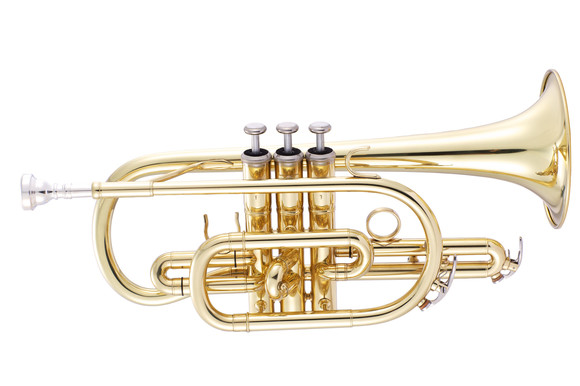 The piccolo trumpet, which is the smallest horn (a full octave higher than the Bb trumpet), is most recognizable from the long-standing theme of "Masterpiece Theater" on PBS. The cornet is very similar to the Bb trumpet only it has a conical bore instead of a cylindrical bore, making it "darker" in sound.
The flugelhorn has a bigger bell, with a wider flare and tubing which is wrapped with wider curves, giving it a much mellower sound than a trumpet. There are also various types of bugles (a conical trumpet without valves) commonly heard in the military or the Boy Scouts playing "Taps" and "Reveille."
So there are many trumpets and trumpet-related instruments. However, most students only need to play the Bb trumpet, at least until high school. At that point, they may want additional trumpets for ensembles and solo works that demand the use of other instruments.
Back to top
Silver-Plate vs. Lacquer Trumpets
One common misconception is that all professional trumpets are silver-plated. Although it is true that the majority of professional trumpets today are silver-plated, you can purchase beginning and intermediate silver-plated trumpets as well as professional lacquered ones. Silver-plated horns are supposed to be brighter, and the theory is that silver plate is relatively thin and harder so it vibrates with the brass, while lacquer is thicker and soft, producing less vibration. This holds true in practice, but still largely depends on the individual instrument.
William Vacchiano, the former principal trumpeter of the New York Philharmonic, put it best when he said," "Number one, the silver trumpet looks better and, number two, it doesn't matter!" To sum up, the student should pick the best-sounding trumpet that plays well in his or her price range.
Back to top
How to Buy a Trumpet
After a young trumpet player has at least a year of experience, buying an instrument is often the best choice, both financially and in sense of ownership. Your student has demonstrated their commitment and is ready to maintain and practice on their very own instrument. Since purchasing a trumpet is a bigger investment than renting, it's important to make sure you've carefully compared retailers' inventory, prices, financing options, setup and equipment options prior to buying. If and when you are ready to commit and invest in purchasing a trumpet, keep in mind the following guidelines and tips.
Stick with well-known brands when shopping. While there are different types of trumpets available, all are made of brass and are commonly seen with lacquered or silver-plated bodies. There is no wrong or right answer as to which produces the best sound. Personal preference is best used in a situation like this where one should choose the trumpet that best suits them price wise. Also, depending on your skill level and the type of sound you wish to produce, be sure to choose a mouthpiece of the proper size.
The Bach Standard Series Trumpet Mouthpiece is one of today's most popular and is a highly regarded choice for students.
Back to top
How Much Should a Trumpet Cost?
A student trumpet will cost roughly $420-$700 or more. An intermediate or professional on will cost around $1,300-$3000 or more depending on the brand and model.
Back to top
Rent-to-Own or Lease-to-Own Trumpet Options
Installment plans are an excellent option if you're ready to make the commitment of buying an instrument but can benefit from deferred payments. This way, you get the freedom to pay over time, with the ultimate reward of owning the instrument. If you choose a rent-to-own or lease-to-own option, however, it's important to check the fine print to make sure there are no hidden fees, and you should investigate the cancellation policy as well. Never sign up for a plan that traps you into payments if your child loses interest in playing an instrument. Look also for retailers who offer affordable damage protection during the installment term.
Our instrument supplier, The Instrument Place, offers teacher-approved instruments and one of the best interest-free lease-to-own programs as part of their commitment to getting an instrument in the hands of every person who wishes to play, without it being a financial burden.
Back to top
Recommended Trumpet Accessories
When buying a trumpet, look for a store that offers all the accessories your child will need in order to best use and maintain it. Along with your purchase, check that a protective case and care kit are included or can be added. The care kit should include a cleaning cloth to remove excess oil and grease from the outside of the trumpet, valve oil or spray to lubricate the valves, and a name tag. Some other items you could also pick up are a cleaning snake, mouthpiece brush, and tuning slide grease.
If given the option to purchase a music stand, go for it! A music stand promotes proper playing posture, which helps to prevent back aches and hunching over.
The Instrument Place instrument outfits come equipped with everything needed to get started in class, plus a free music stand with every instrument purchase!
Back to top
Trumpet Maintenance and Care
Valve Oil Application
Always consult your teacher if you are not sure how to apply valve oil.
The purpose of valve oil is to clean, lubricate and fill the air space inside the valves.
You should oil the valves of your trumpet before each time you play, preferably without completely removing the valves. This will prevent accidental damage to the pistons.
Remove the top cap and pull out the piston far enough to see the valve and apply enough oil to fully cover the surface. (Do not oil the valves from the bottom caps)
Using too little oil will not properly lubricate your valves. Using too much oil will not cause any damage to the trumpet.
Replace the valve without excessive rotation. As you lower the valve, slowly turn it clockwise until it locks into place.
The oil will naturally distribute itself when the valves are depressed.
Confirm that the valve has been replaced properly by blowing through the instrument.
You will also need to apply oil to the small water key about once a month.
Slide Grease Application
Every trumpet player should have a maintenance and care kit.
Always consult your teacher if you are not sure how to apply slide grease.
You should grease your slide at least once a month.
Remove slide and wipe off the old grease.
Apply a bit of grease to one end of one of the slide tubes and re-insert this side.
Gently rotate the slide as it is pushed in, evenly distributing the grease to all parts of the slide.
Repeat this process with the other end of the slide tube.
When completed, insert the slide as normal and remove all excess grease.
NEVER use Vaseline in place of slide grease. This will corrode your trumpet.
Maintenance
Your mouthpiece should not have any dents in the end of the shank. If you notice any dents in your mouthpiece you should immediately take it to a technician for repair.
You should grease your slide at least once a month. You should move and grease all slides and bottom caps at least once a month.
When bottom caps are removed you can apply a small amount of slide grease to the threads of the cap for easy turning.
If the bottom caps are dirty you can wash them in warm water and let dry completely before greasing and reassembling.
DO NOT ATTEMPT TO REMOVE THE CAPS, MOUTHPIECE OR SLIDES IF THEY BECOME STUCK. A lack of oil and grease will cause the parts of your trumpet to stick. If they do stick take it to a technician immediately for removal.
NEVER try to remove stuck parts with pliers or hammers!
Wipe off your fingerprints from your trumpet after every use. A clean, non-treated cotton cloth will work the best.
If you do choose to use a treated polishing cloth be sure that it is for the proper finish. Using the wrong cloth could cause scratches.
Always store your instrument in its case with the lid closed when not in use. This will prevent any excess tarnishing and lower the risk of damage. Do not put anything (including sheet music) inside the case with your instrument that does not belong. Closing the case with extra contents can cause damage to the valves or dents.
Also, make sure that all the latches are securely closed before transporting your instrument.
Student trumpet prices can be considerable so take care of your instrument.
Back to top
Famous Trumpet Players
Looking for more inspiration? Below are sound bites from famous trumpet players from all a range of music categories.
The trumpet has crossed into every corner of music, from classical to jazz to rock to blues. Famous jazz trumpeters include Louis Armstrong, Clifford Brown, Lee Morgan, Clark Terry, Harry James, Dizzy Gillespie, Arturo Sandoval, Maynard Ferguson, Miles Davis, Herb Alpert, Chuck Mangione, Wynton Marsalis and many others.
Famous classical trumpet players include Maurice Andre, Thomas Reiner, Rafael Mendez, David Krauss, Sergei Nakariakov, Bud Herseth, Phil Driscoll and others.

Back to top